Rochester United
Saturday, August 30, 2014 - 15:00
SCEFL: Rochester 1-2 The Wells
Wading through treacle…
Football away days are bit like holidays. For some it's the buzz of visiting a new place, for others there's a warmth and security in going back to a familiar stomping ground, confident that you'll be looked after and treated well. A trip to Rochester is the latter. We knew they hadn't started brilliantly and last year had enjoyed a comfortable afternoon out. So after the excitement and tension of the last few weeks we set out in good spirits, ready to enjoy the final Saturday of summer in beautiful Medway.
The Rochester United Sports Ground is situated in Strood, adjacent to the A2 and surrounded by a shiny new green fence. In front of their compact club house there is a scaffold built main stand which looks like it has been knocked together by Bob the Builder's apprentice; and it was here that the South Stand Choir decided to layout the flags, quickly securing an area with the ruthless efficiency of a German tourist.
As it turns out we needn't have worried. It was clear that we would have this secluded ground to ourselves so quickly turned our attention to the game. The Wells had started confidently, with Arron sitting in front of a central pairing of Nick and George, we looked defensively sound and it was now just a question of creating chances and putting them away.
It took Mr Lacy a couple of sighters before he eventually found the towering head of George Vienna, and on 10 minutes the ball crashed into the Rochester net giving The Wells a well-deserved lead. This effort was followed 15 minutes later by a Royal rocket from Joe Fuller, from the moment it left his foot it was always in. This was quickly becoming a jolly holiday outing.
Perhaps we had relaxed too much and in the second half Rochester began to come back into the match. They never really looked like troubling Steve 'no nonsense' Lawrence, but nevertheless buzzed around The Wells defence like an irritating mozzy, desperately in need of a final swatting. It was Joe Fuller that almost struck the killer blow, as his 45 yard effort narrowly flew over the Rochester goal with their keeper stranded.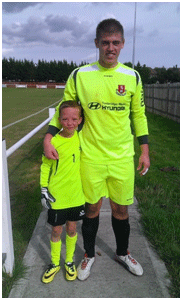 #nonnonsense
Eventually Rochester did manage to claw one back and as game edged toward fulltime there was just time for a couple of self-imposed trips to the naughty step for over use of the word 'treacle' when addressing our female referee. A simple mistake, but they do say if you can't do the time…
As the final whistle sounded we headed back to our royal carriages, and whilst this had proved to be fairly relaxing trip, there are tougher assignments to come.
The Wells (starting XI):
Lawrence, Bourne, Benner, Davis, Bryant; Lacy, Fuller, Beecroft; Lawson, Parsons; Cass
The Wells goal scorers:
Benner & Fuller
South Stand Choir attendance:
50-60

South Stand Choir… we are the 12th man!