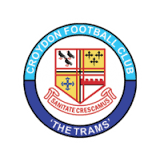 With 7 games remaining The Wells travel to The Croydon Sports Arena on Saturday to face Croydon.
The Trams sit 11th in the table on 39pts with a record of 12 wins, 3 draws and 16 defeats.
After Saturdays dismal defeat to Erith & Belvedere, The Wells sit 4 places (15th) and 7 pts behind Croydon.
The last meeting between the two sides saw The Wells eventually declared 1-0 winners back in September. The game ended in bizarre fashion when Referee John Nazari picked the ball up with 3mins remaining and abandoned the game with The Wells winning 1-0 through a Ryan Crandley goal. The Wells were finally cleared of any wrongdoing 6 months later and awarded the win and 3pts.
Last seasons corresponding fixture saw Croydon win 1-0.
Kick Off 3pm
Croydon Sports Arena
Albert Road
South Norwwod
SE25 4QL