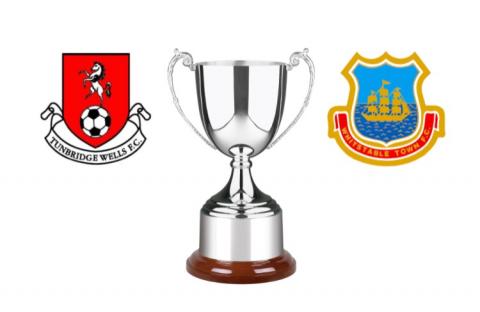 The Wells 55th and final game of the season sees them travel to Tonbridge Angels Longmead Stadium on Saturday for the SCEFL Challenge Cup final against Whitstable Town.
The Oysters have enjoyed a tremendous season having sealed promotion by finishing runners up behind champions Sevenoaks Town and also winning the Kent Senior Trophy by beating Sheppey Utd.
The two sides have met just twice this season in the league and both games have been evenly contested. Whitstable edged the first encounter at The Culverden winning 1-0 thanks to Ricky Freeman's goal.
The points were shared in the return fixture at The Belmont after Jack Harris had given The Wells an early lead it was Ricky Freeman again that denied The Wells maximum points.
The Wells have been drawn as the home side so will wear their red kit while Whitstable will wear their yellow away kit.
Whitstable's path to the final was :-
1st Round - Bye
2nd Round - (H) - Holmesdale - 2-0 - Welford, Goodger
3rd Round - (H) - Croydon - 4-0 - Cloke x2, Smith, Freeman
4th Round - (H) - Deal Town - 1-0 - Williams
Semi Final 1L - (A) - Lordswood - 2-3 -Gillman x2, Freeman
.Semi Final 2L - (H) - Lordswood - 1-0 - Nelson
The Wells path to the final was :-
1st Round - (H) - Rochester United - 2-1 - Nwoko, Harris
2nd Round - (H) - Rusthall -3-2 aet - Harris, Parsons, Pilbeam
3rd Round - (A) - K Sports - 0-1 Kendall
Quarter Final - (H) - Cray Valley PM - 2-1 - Pilbeam x2
Semi Final 1L- (H) - Crowborough Ath - 3-0 - Harris, Trespaderne x2
Semi Final 2L - (A) - Crowborough Ath - 0-2 - Harris, Mici
Kick Off 1pm
Longmead Stadium
Darenth Avenue
Tonbridge
Kent
POSTCODE : TN10 3JF
Telephone: 01732 352417