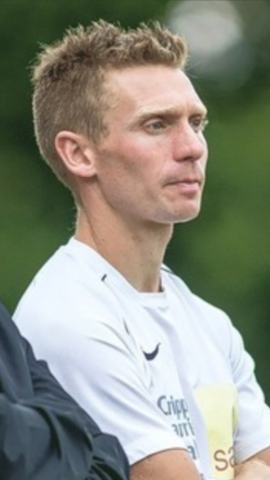 With Pre Season now well underway, we caught up with the gaffer to ask his thoughts on last season, his ambitions for next season and how the team is shaping up for the new season.
Have you watched much of the World Cup?
Yes of course. Got to be done!
The First World Cup I remember was 1990 and I fell in love with football ever since. Even though the national team has disappointed in recent years you cling to the memories of the good times.
What did you think of England's performances.
Gareth Southgate has done an amazing job on & off the pitch. Working wonders with the press and public to lower expectations and picked a team based on club form and team players. The nation has bought in and I think everyone will look back and be happy with what we've achieved.
Having had time to reflect, how do you assess last season? Equalling the clubs best ever FA Cup run and a competing in the SCEFL Challenge Cup final must be pleasing?
Our cup form was amazing and really made the season a success in my eyes. It excites players and supporters which is what we are after. The league form however... We got stuck in a rut mid season and despite a good run from Christmas we never got ourselves out of the bottom half which was a shame.
What we created since Christmas is a very good settled local side that play for each other and the club.
We've got the best coach anywhere near this level so now we have structure and a game plan to go with a great bunch of lads I'm proud to call my team.
We are all quietly excited about the season ahead together.
Are you happy with the draws for the FA Cup ( Croydon Away ) And FA Vase ( Billinghurst Away )?
Personally I can't get too excited about drawing teams from our league in cup competitions as for me it's about the unknown that makes it exciting.
We had to beat Beckenham in the Extra Preliminary of the Fa Cup last year to go on our little journey, so this year its Croydon that stand in our way.
Billinghurst will be a new ground and a team away day in the Vase, so we will be looking to progress there if possible.
Can you reveal any new signings to the squad for the upcoming season?
I have such faith in the squad we have brought together that after getting caught up previously in making signings to look like we are ambitious, it was the wrong path as you're then blinkered to what you want and not what you have. It's backwards steps in my experience, this group deserve the chance to step up and they will.
We have looked to replace anyone that's gone with quality and build on the team I have, they are lads I'm proud to manage and it shows.
Jack Harris ( Faversham Town and Jarred Trespaderne ( East Grinstead Town )have left, so we have brought in Steve Harper and Danny Powell from Rusthall which will strengthen us.
We have a left back joining us from another SCEFL Club that is 99% done to provide competition and cover in that area.
Also a couple of local gems have come out the woodwork that's always a nice surprise.
What are your hopes for the upcoming season?
The league is wide open this season which has seen a few clubs go silly with money to get out, but for me I know the sky is the limit for this group and one thing I know for sure is we will work hard, play a good structured style of football and play for each other, qualities that bring success and ones I have not seen here since the 2013 season.