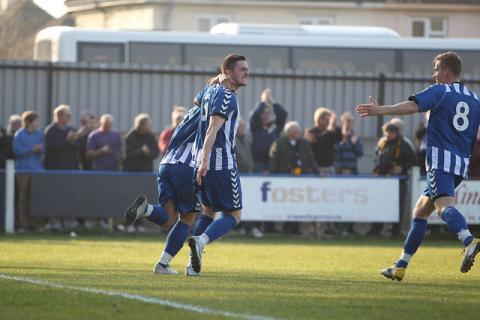 Goal scoring last season wasn't a problem for Tunbridge Wells. Goals conceded was an area that needed addressing, and Tunbridge Wells manager Martin Larkin has moved to freshen up his defence during pre-season.
Last week, a defensive addition was made in the form of Tom Bryant, who brings a wealth of experience playing further up the pyramid. As a happy coincidence, he also chips in with the odd goal. www.tunbridgewellsfc.com caught up with Tom to delve further into the winning mentality that Larkin's been looking to recruit…
TWFC: Welcome to Culverden, Tom! Just to help us get to know what makes you tick as a player, let's imagine Tom Bryant has the footballing world at his feet with clubs scrambling for his signature from all over the globe. Based on the type of league/country, where do you decide to play next – and what are the personal and footballing reasons behind your choice?
TB: Thanks! It's a pleasure to be at Tunbridge Wells. Pick a club/league anywhere in the world? That's a tough one! Different leagues have different attributes that I enjoy to watch - and also look to add into my own game.
I'd probably choose Germany and Bayern München. The reason behind this is because A) the club is steeped in history and tradition, and B) the current manager there: his footballing philosophy, the ability to make players play with freedom is something that gives a basis to learn and develop, and is something I always want to be doing.
TWFC: In the real world, can you fill us in on your footballing career to date? What has been your biggest personal highlight and lowlight?
TB: Okay, so my footballing career to date started off at Gillingham. I signed YTS forms there after leaving school, then signed professional back in 2008. Chances were few and far between and I went on loan to Folkestone Invicta. Subsequently I left Gillingham after a year of that contract and went and played up in the midlands for Halesowen Town who then were in the Southern Premier League.
I came back down south after a season there and signed for (I don't think the fans will like me for this) Tonbridge angels, and then joined Herne bay in 2010-11 season, winning the Kent League in 2011-12 along with the cups. I moved to Lordswood for a brief spell last season and now I'm here at Tunbridge Wells, where I'm hopeful for another league title.
Probably the lowest point of my footballing career (well, I'd say points), was coming out of the professional game - you work so hard to get there it's an unforgiving business - and losing in the FA Vase Semi-Final against West Auckland Town with Herne Bay. We went ahead in the game – a goal by yours truly [laughs]. We ended up losing the game 2-1. That was pretty soul-destroying, and something you'll rarely hear me talk about in public, that's for sure. It still haunts me to this day.
TWFC: You arrived at the friendly against Rusthall last week having never met any of the players before, and you slotted right in. In fact, by the end of the evening, you'd put pen to paper to sign for the season. What ultimately persuaded you to join?
TB: The manager gave me a call before I went away on holiday outlining the club's plans for the forthcoming season. I was pleased to hear what he said, so I had a think about it, came along and played on Tuesday in the pre-season game against Rusthall to see what the club was all about.
I think what persuaded me was the ambition, the professionalism for a club at this level, and the fans. They pay their money to watch their club week-in week-out, and to see that amount of support for a Pre-Season Friendly on a Tuesday was top class!
TWFC: Speaking from personal experience as a league-winner with Herne Bay, what are the key attributes you and your new team-mates will need in order to have a serious tilt at the SCEFL title this year?
TB: It's never been an easy league to win. You speak to anyone who knows their stuff and they will tell you exactly the same. You have to be relentless – there's no taking that foot off the gas during games, training, or anything because there's teams now that will punish you.
I believe team spirit on and off the pitch is huge. At Herne Bay it was like a family and you could see that on the pitch. If your mate was struggling you would help him out - once that trust is there, everyone's work-rate increases.
A winning mentality, too: you've got to get used to winning games by any means necessary. That starts in training. It's got to hurt people to lose and concede goals. Not only that, but you do have to have quality. The lads that are already here and the new additions certainly bring that. I'm looking forward to getting started!
TWFC: So what are you most looking to get out of your time in a Tunbridge Wells shirt?
TB: I think working with a different manager with new ideas. I've worked with Simon Hasley for a good few years and I can't speak highly enough of him. He helped me out on and off the pitch, but this is a new chapter now. I'm looking to learn new things.
If you can't adapt to change you won't progress and that's what I'm looking to do here as a player. That and to win trophies.
TWFC: Let's close with another look at what motivates you as a footballer… Which professional player in your position do you most admire, and why?
TB: That's a tough one because I've never really got motivation from other players that have played in the same position as me. I've got motivation more from the technical side of the game: players that make things look easy - the ones that forward-think and see passes before they even have the ball. Strange, maybe, but that's my train of thought…
(Interview by Matt Harris)