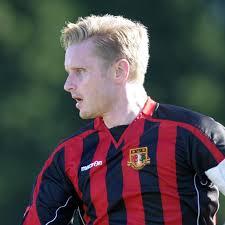 Tunbridge Wells boss Martin Larkin reacted quickly to pull off a coup and secure the services of central defender Nick Davis. He was joint-manager at Sittingbourne last season and has hundreds of games under his belt playing Ryman and Conference level football before becoming available in July.
By way of welcoming him to Culverden, www.tunbridgewellsfc.com caught up with Nick to find out more about The Wells' latest signing.
TWFC: In another time and dimension, Nick Davis is in the heart of the England defence facing Argentina in the 1986 World Cup. Still reeling from the injustice of the first goal scored by Diego Maradona three minutes earlier you're stood exactly where Terry Fenwick was as Maradona surges towards the box. You've watched him tying several of your team-mates in knots en route and he's going like a train… You have a split second to react; how do you apply a key element of your game (for good or bad) to do what Fenwick couldn't and prevent the 'Goal of the Century'?
ND: Ha! I think I would have taken one for the team and taken him out. I think you would have had to have done something pretty nasty to get sent off in those days, anyway...
TWFC: Tell us about your footballing career to date? What has been a personal highlight and lowlight?
ND: Well I have played over 500 games from when I started at 16 in the Kent League with VCD and then Maidstone, coming runners-up on two occasions and winning the Kent Cup twice.
I went on to play for Fisher for four years, two of which were on a full-time basis, winning the South London Cup twice, winning the Ryman League Cup, the Ryman (South) Title and promotion to the Conference South via the playoffs in the Ryman Premier League, beating AFC Wimbledon in the semi-final in front of 4,000 supporters. I spent the next year in the Conference South where we finished 8th before moving to Ramsgate where we made the Ryman Premier Play-Offs again, losing narrowly to Staines. But I managed to win another Ryman League Cup along the way.
I then had a spell at Tonbridge Angels, Maidstone again, and then Thamesmead Town before I signed for Sittingbourne were I have made 91 appearances, scoring eight goals in the past two seasons - the latter being as player-manager.
The highlight would have to be promotion to the Conference South and my low-point would have to be missing out on the Kent league title on goal-difference at VCD having been 12 points clear to the eventual winners (who proved to my next club) Maidstone.
TWFC: Last year you were joint-manager at Sittingbourne, but you've opted to focus on playing again this year. What are you particularly looking forward to for the coming season?
ND: I was player-manager last year and I played 51 times, so I have never stopped playing. I am especially looking forward to a new challenge; the chance to win something; and the prospect of getting this club in the Ryman League where it belongs.
TWFC: What experiences that you picked up from your time as joint-manager do you see as being transferrable as you focus on playing in the Tunbridge Wells team this year?
ND: That would be my general knowledge of the non-league scene. I watched a lot more games as manager, and knowing the players you are playing against and the way different teams play will hopefully be beneficial.
TWFC: We've heard you had a number of offers after becoming available this month. What was it that made you decide to play for Tunbridge Wells?
ND: Well, as off 10 days ago I had no intention of playing elsewhere after what had happened at Sittingbourne. However, this gives me the opportunity to focus solely on playing. I made it known to Martin that I didn't really want to drop down a level, but the way the club was sold to me and looking at The Wells from the outside, it has always been a club that is appealing to me.
Speaking with Richard Sinden, who I played with years ago at Maidstone, he spoke very highly of the club, the players, the management team and the fantastic support the club gets.
TWFC: What is your understanding of the SCEFL, and how does it differ from the Ryman League?
ND: I think the league looks as though it will be a more competitive one this year with the number of teams joining and the money that is being invested by some of the teams that don't normally compete near the top of the table. The Ryman League by comparison is relentless with 24 teams, and there is never an easy game in that league.
TWFC: Finally, to give us an idea of the type of player you are, which professional player most closely reflects your style?
ND: That would have to be John Terry.
* Interview by Matt Harris
* Photo: Kent Messenger