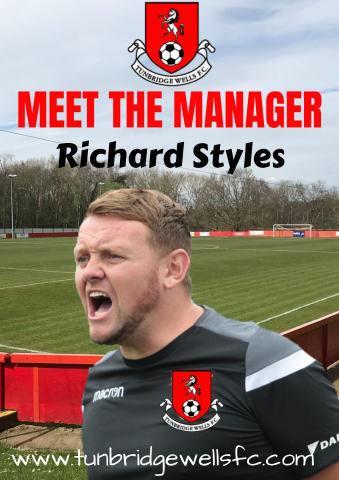 Having been appointed first team manager last week, we caught up with Richard Styles to find out a little more about the new Wells manager.
Welcome to Tunbridge Wells FC Richard. Can you tell us what your footballing background is?
RS : My Footballing background started at Gillingham and Crystal Palace as a youth player. I then played for Crawley Town in the national conference in 2005/06.
After being released I spent a season playing in America for New England Revolution 2 and New Hampshire Phantoms.
Unfortunately I tore my ACL ( Anterior cruciate ligament ) while out there. After rehab and retuning to the UK I played for and had spells with Maidstone, Tonbridge Angels, Sittingbourne, Chatham Town, Herne Bay & Slade Green making over 350 appearances.
I ended my playing career at Lordswood having ruptured my other ACL and after finishing the season with them having made over 100 appearances overall.
I predominately played in Central Midfield or Centre Back during my playing career.
Away from football, what is your day job?
RS : My day job is an alternative curriculum centre manager for the area of Kent for Charlton Athletic Community Trust which is the community arm of the football club.
What attracted you to apply to become manager of The Wells?
RS : The Tunbridge Wells job was an attractive opportunity because I know the size of the club, the previous successes the club has had. I Also saw it as a personal progression from the position and club I was at.
What have your experiences been of visiting The Culverden as an opponent.
RS : My experiences of playing at The Culverden is that it has never been an easy place to go and always expecting a tough game. One where the crowd can get on top of you a bit and be intimidating at times.
As a manager funnily enough I have never lost at the Culverden in the 3 times I have visited so hopefully that's a good omen going into this season!
What can Wells supporters expect from a Richard Styles Wells team
RS : The Wells supporters can expect our team to be hard working, passionate to play for the badge and supporters. We will try and play attractive, attacking football when the conditions allow it across the league season, but at the same time we will have a plan B if called upon and it means the difference between winning and losing.
I want the supporters to enjoy watching us play and feel a connection with the players. The players will be proud to wear the shirt and give everything to get a result on a match day.
What are your hopes and ambitions for 19/20 and beyond for you and The Wells?
RS : My staff and I are very ambitious.
My ambitions for this season is to improve on last season, quite simply the finishing position wasn't good enough and I want to improve us as a team to finish a lot higher in the league and create that positivity across the club, the town and the county.
Longer term I'm fully aware of where this club has the potential to be and I'll be doing my upmost to ensure we can achieve that and eventually get out of this league and push on to a higher level, this won't happen overnight and it's one that will take a little bit of time, but the foundations are well and truly in place and I am now looking forward to getting to work with the boys in pre season and hitting the ground running when the season starts.
Richard and his management team will be hosting a Q&A session for supporters to attend and ask any questions they may have going into the upcoming season on Tuesday 18th June at 19:30 in the clubhouse.