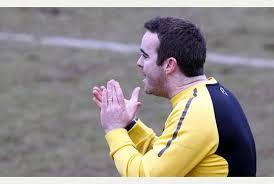 Martin Larkin is a day away from sending his new-look side out to kick off season 2014/15 at Cray Valley PM. It's been a busy summer on the pitch; a summer in which the side that took The Wells to Wembley in 2013 has been broken up – the core remains, but added experience and leadership has been brought in as part of a bid to help take this club to the next level.
"We are satisfied with what we've built over the summer," Larkin told www.tunbridgewellsfc.com in an interview on the eve of the new season. "You always think you can still improve but we are happy with the mix of the squad, and most importantly we are very happy with the strength of it quality-wise."
New players take time to gel, and pre-season has brought a mixed bag of results – but score-lines aren't what ultimately matters during this time. Folkestone Invicta gave The Wells a 4-1 stuffing a year ago, but only came away from Culverden with a 1-0 win this year, and fitness and experience showed in the last pre-season game with Hildenborough who tired in the last 10-minutes and found more tooth to The Wells than a Great White as they were carved up with four late goals.
"I think the Maidstone game stood out in terms of performance," Larkin pinpoints. "We went toe-to-toe with their first team, and only conceded through two goalkeeping errors - so we were delighted with that.
"The second highlight, I suppose, would be the Crowborough game where we were very poor, but found a way to win. I'm not sure we would have done in recent years. Both bode well for the season to come."
The higher profile signings have been covered in depth during the summer months, but Larkin's been adding some depth to his squad too, with other names appearing on the team-sheets in pre-season.
"Jack Goldsmith is only 18, can play up top or out wide, and is part of the successful SEFA academy set-up which Lee Radford coaches at. He has impressed us and scored on Tuesday night (Hildenborough), so we're delighted to welcome him to the fold. Mark Wallis first played for me 10 years ago as a youth team player. Last year he had a great year in the Invicta league and was a big part of why Lydd Town did so well to finish runners-up. So I expect him to be pushing for a midfield birth this year."
With everything set for the new season, Larkin won't be drawn on targets for an opening month that includes two local derbies. "All we are thinking about is Cray Valley at the moment. The derbies will be exciting, but that's down the line. Cray is the sole focus along with the three points that are available up there.
"We are ready and the players are chomping at the bit having trained well last night. We went and watched Cray Valley on Monday night and they looked good against a strong Wimbledon side - but we as a group are very excited about getting the season started!"
(Interview by Matt Harris, Image from www.courier.co.uk)