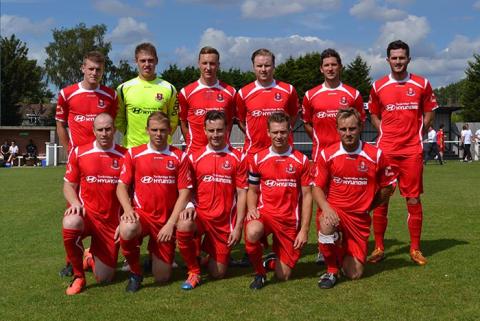 (Photo by Alan Coomes)
Tunbridge Wells got the 2014/15 campaign off to a winning start at Cray Valley PM with a 3-0 win and a hat-trick from Brendon Cass in his competitive debut for The Wells. Cray Valley will undoubtedly prove themselves to be a solid outfit over the course of the season and the win pleased first team boss Martin Larkin.
"We're really happy with the win and result," he told www.tunbridgewellsfc.com. "The opening day is about building momentum and we have done that, I feel. We took our chances and limited Cray Valley to shots from distance so we're very happy."
After the first day's action, The Wells sat fourth with Ashford United and Erith & Belvedere winning 6-1 and 6-2 respectively in their opening fixtures. And while big-spending Greenwich Borough lost 1-0 at Phoenix Sports, at the top of the early table are Holmesdale, next Saturday's FA Cup opponents, who trounced Lingfield 8-1. Lingfield visit Culverden on Tuesday evening in an SCEFL match, kick-off 7.45pm, but Larkin is wary of giving first day results too much merit.
"We need to make sure we don't have one eye on Lingfield's result from the weekend when we play them on Tuesday night," he warned. Lingfield boss Dixie Dean told the Lingfield website prior to the curtain raiser, "We can give anyone a game and we will give anyone a game. We are not expecting to finish at the top so there is not as much pressure on us, and the players will know this."
While Lingfield will perhaps feel some pressure to give a better account of themselves on Tuesday night, The Wells will want to press home the result up at Cray - so make sure you get along to Culverden in numbers for the first competitive home game of the season for what is sure to be an absorbing showdown.
Adults - £7
Concessions - £4
Children - £1