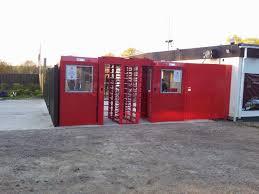 Photo: Games coming thick and fast: Next at Culverden - Woodstock Sports...
Following the weekend's FA Cup defeat at Holmesdale, Tunbridge Wells can look forward to getting back to league action this week, beginning with a trip down the A21 to Sevenoaks Town on Wednesday night. Having appointed Micky Collins as manager in the summer, The Oaks have been rebuilding, and the likes of Andy Constable and former football league player Simon Osbourne, along with a host of other useful signings promise to give Martin Larkin's troop a real test.
Like The Wells, The Oaks have won their opening two league fixtures, but suffered defeat in the cup on Saturday. Collins has dubbed his side as the league's 'dark horses'. "There is no pressure on us," he told the Sevenoaks Chronicle recently. "We're not running big budgets and big expectations. What we're doing is organising a football club…The pressure is on Tunbridge Wells, Greenwich Borough, Phoenix Sports and the like."
Talk of pressure doesn't worry Larkin. "Half of our team have won this league before and the other half stood-up to the pressures of a Vase run that took us all the way to Wembley - so a bit of pressure doesn't bother us. It's a compliment that other teams see us as a threat and try to pile it on us.
"It's important to see Wednesday in context," he added. "It's just another game; it's only the third league game of what is now a longer season - and pressure comes in different forms. We have pressure to win games because we have a large and expectant fan-base that travel across the county supporting us. We want to do well for them.
"Sevenoaks are building again. I think Micky is the fifth manager in five years there, and whilst I have no doubt they have finally appointed the right man, he will want to prove that – and I am sure over the course of the season he will."
With the early games coming thick and fast, Woodstock Sports roll into Culverden on Saturday – KO 3pm – for another league match, before another local derby at Crowborough beckons on Bank Holiday Monday. Larkin is looking no further than the next home game, however, and the visit of Woodstock.
"It's a game we'd expect to be very hard to beat in," Larkin anticipates, "but then we expect that from all games. Hopefully after Wednesday night we are in a position to continue building on an unbeaten start to our league campaign. If we aren't then we will just have to ensure we go out and start picking up points again."
Next at Culverden Stadium:
Saturday 23 August
Tunbridge Wells v Woodstock Sports
Southern Counties (East) Football League
Kick-Off 3pm
Adults - £7
Concessions - £4
Child - £1